Cheapa Self Storage Removalists
Mobile Storage removal service between Orange, Bathurst, Lithgow, Blue Mountains and Sydney. Standard base rate $380.00 (Conditions apply).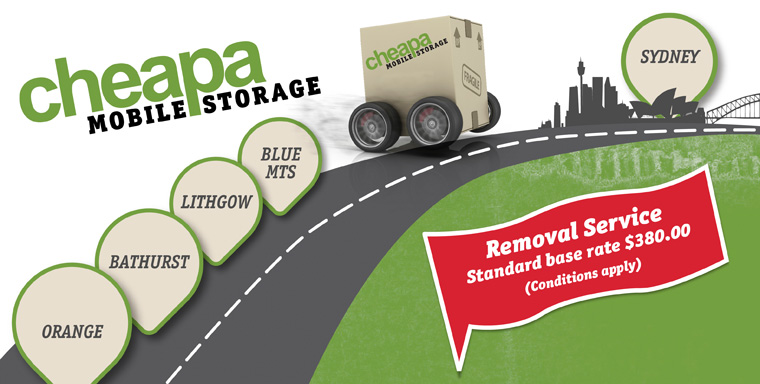 Cheapa Mobile Storage now offers a removal service for small loads between Orange and Sydney including all towns in between.
If you are moving we can make your move simple and easy. We arrive with either our truck or trailer. You load your goods and we take them to your desired destination where you unload them.
What you need to know
Orange NSW pick-ups can be done 7 days a week. All other locations can only be done Monday to Friday (no weekends). Pick-up date to be set by prior Friday week by Cheapa Mobile Storage. (We will endeavour to fit into the customer's schedule). Standard base rate of $380.00. Extra charges may apply to certain locations or circumstances. All removals will be quoted on per job basis.
The service offers two size options - 9.7m3 & 18.2m3. (Additional space will be charged at $20.00 per cubic metre). The maximum we can move per pick-up is 18.2m3. We can accommodate larger volumes, please call us to discuss.
Service is transport only with no labour supplied. (Customer loads & unloads at destination). It is the responsibility of the customer to load their items and they should be packed firmly so the load does not move while in transit. Cheapa Mobile Storage is not liable for breakage due to poor packing practises.
Load time 2 hours (Charges @ $40 for every ½ hour applies thereafter).
Unload time 2 hours (Charges @ $40 for every ½ hour applies thereafter).
If pick-up is cancelled with less than 24 hours' notice, a cancellation charge of up to $240.00 may apply.
Tips:
Loading - Before free pick arrives, have all items to be loaded in one central location close to where vehicle can be parked legally.
Unloading - Have a space allocated to unload all items.
Truck mobile box dimensions 2.4 x 1.8 x 2.25(h)m 9.7m3
Big Trailer dimensions are 4.0 x 1.9 x 2.4(h)m 18.2m3.